Current & Past Quilt Projects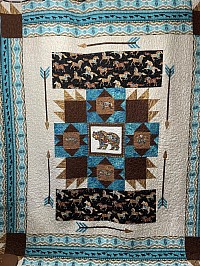 Daniel's Quilt
Daniel's Quilt
This quilt was made for Daniel's 3rd birthday and his new big boy room and big boy full sized bed! Made with several different fabric lines and designed by me, but it would never have been done if it hadn't been for Mary Annis working on it and teaching me!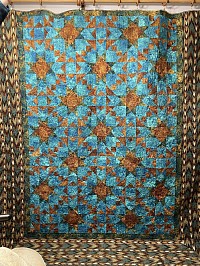 Our Anniversary quilt
Our Anniversary Quilt
Made with Northcott's Stonehenge and a border print I got at Hobby Lobby. I designed this one using alternating Ohio star blocks and Aunt Dinah blocks. Mary Annis my amazing teacher did much more on this one than I did but I did help and learn a lot! It fits a queen size bed. I made it for our 5th wedding anniversary!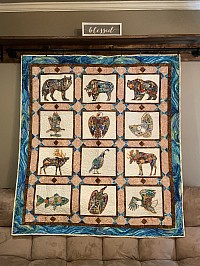 Spirit Animals
Spirit Animals 
My very first quilt and the start of my new addiction made from the 'Animal Spirits' collection by Sue Coccia for Robert Kaufman Fabrics. Mary Annis was just going to do this one for me for Daniel's room, but she ask if I wanted to help and just sew a few straight lines to say I helped make it.  I can still remember being so excited and nervous to sew. Thank you Mary Annis!